Mōrena and welcome back to another Friday. We hope it's going slightly better for you than for a certain billionaire whose rocket just experienced a "rapid unscheduled disassembly". Related: where will we find the top urbanist news tidbits and inspiring images to bring you every week, if the same thing happens to a certain social media app?
Today's header image is borrowed from a tweet by Councillor Richard Hills, who has the gift of always managing to see the sunny side of this city and its future.
---
The week in Greater Auckland
Aiming to lift the mood this week, we featured:
---
It's not the cycleways that are gold-plated
A good look from Radio NZ's The Detail on how cycleways often get unfairly attacked for being "gold-plated", when in fact the bulk of the expense is on necessary fixes to all the unseen things, and then wrapping the whole project in features that give everyone what they want:
"Why wouldn't you make one of the most famous streets in Auckland actually look better and attract more people?

"A lot of the money in these schemes goes towards the underground works the minute that we put a spade in the ground. Right beneath your feet we've got electricity cables, we've got fibre optic cables, we've got all the communications, we've got the drainage, which might, in this case, date back to the 1920s.

"A lot of things go on under the ground that you never see at the end of it. The only manifestation of that you see is we upgraded the street lighting to get it up to modern standards."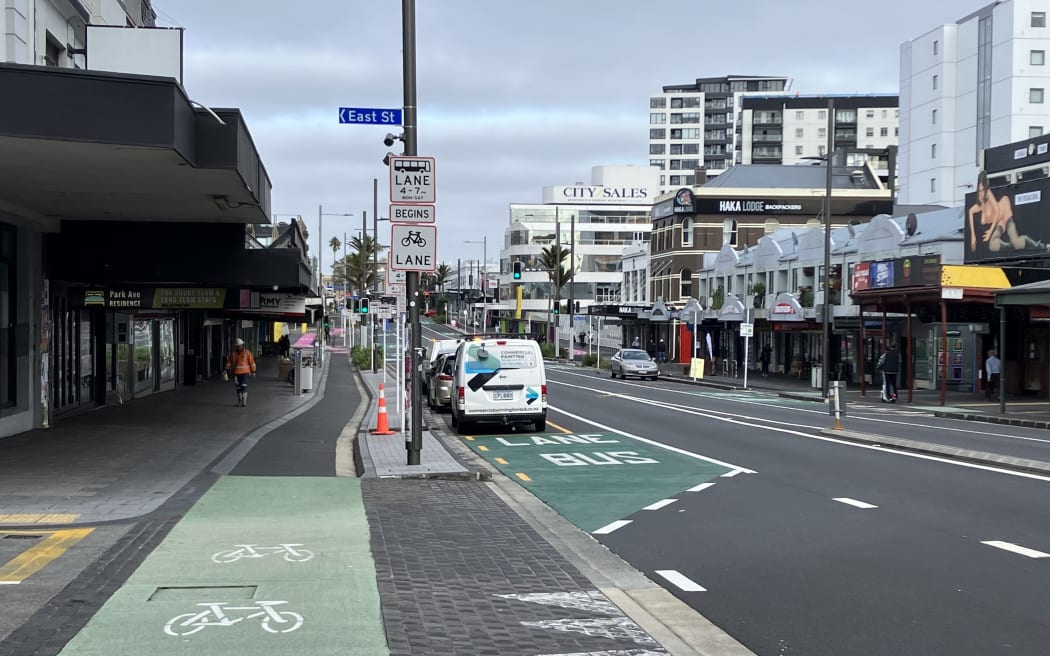 ---
The costs of road-widening
A recent update on the Eastern Busway contains a heart-warming story that inadvertently highlights the cost (and waste) of widening roads, especially when reallocating space is always the more affordable option.
When houses are removed to make way for major infrastructure projects, their parts are usually sent to landfill. Carpet, floorboards, corrugated iron, and plants all go to the same place.

With big sustainability goals, the Eastern Busway project team has been working hard to find new homes and purposes for these materials and provide local community members with requested items where possible.

Fai and Ta'i (pictured below) were delighted to take home cuttings from a hibiscus tree with unusually dark flowers. Both from Samoa, they particularly appreciate the hibiscus flower and were very excited to propagate the plant and give it a second life.
---
Micromobility comes in many shapes and sizes
One of the great things about cycleways is they have significant health benefits due to people being more active. But bikes aren't the only thing that can help, as this article from Christchurch City Council highlights.
18 months ago, Karen Brill bought a walking bike that has let her get her life back.

Ms Brill was struggling with her weight, had damaged lungs, difficulty breathing and severe arthritis.

"In 2020, I went to Church and couldn't even walk five metres without needing to take a rest. I disliked not being able to walk and live a normal life, and finally decided that I'd had enough," says Ms Brill.

She settled on a large walking frame, hoping it would extend her mobility. Despite taking this step, Ms Brill came to another hurdle. "The walker was so wide I couldn't even get through doorframes with it! I put up with it for a few months, but in early 2021 I thought it was ridiculous. So, I went online and stumbled across the Alinker walking bike."

The Alinker is a walking bike without pedals, designed to let people live how they want regardless of mobility challenges. Dutch Canadian inventor Barbara Alink wanted to give people living with disabilities a new mobility device.

Ms Brill says that before the Alinker, any sort of exercise was hard. "I was 150kg and I couldn't even get to the letterbox. My neighbour brought in my mail and took out my bins for me, and friends picked me up to take me to Church." The new mobility invention allowed Ms Brill out of her home, and she was able to once again complete daily errands by herself.

The walking bike helped Ms Brill lose enough weight to receive gastric bypass surgery and improve her quality of life, and be under the 100kg threshold to see a surgeon regarding knee surgery.

However, the benefits don't stop at an increased health aspect. "It came down to the social aspect of it as well. People were talking to me in the street and my confidence was improving. I'd even leave myself extra time when I went out, so that I could stop and chat to anyone who had questions.

"Now, I'm walking about 6km a day. While I still cannot bend my knee, my lungs are healthy, my muscles are growing and I'm able to do things I haven't done in years," says Ms Brill.
---
Get paid to ride your bike to work
With this one neat trick: move to Belgium. Belgians will now get paid to cycle to work, at .27 Euros per km, maxing out at 2343 Euros per year. As the article notes, currently 11% of Belgians bike to work, while over half of those who live within 5km of their workplace still use a car. So a financial sweetener might help a few more switch from four wheels to two.
Belgium is small, and that maximum figure works out at just over $4,000 per year. So it won't be easy to earn the whole whack, as that would require averaging about 17km per commute (35km per day) five days a week. Still, at even half that, you could shout yourself or a family member a new high-quality e-bike every few years.
Hope you're reading this, Minister Wood!
Related, this observation from a central city dweller about the ease of getting around by bike:
Here's the Queen St bit of our journey to the library by tricycle yesterday (sped up 4x). Lots of foot traffic, scooters, and bicycles enjoying the car-lite space. https://t.co/BaySv4WOgY pic.twitter.com/rxRz4P1clL

— Su Yin Khoo (@ksuyin) April 20, 2023
---
Big Bike Tunnel
Continuing the bike theme today, Bergen in Norway has just opened what they say is the world's longest pedestrian and bike tunnel:
A three-kilometer-long (1.8-mile) cycling and pedestrian tunnel has been blasted through the base of Løvstakken mountain and its makers say it's the longest purpose-built tunnel of its kind.

[…..]

If you're wondering how cyclists and pedestrians can use the same space, there are two lanes in the tunnel: a 3.5-meter wide bike lane and a 2.5-meter-wide lane for walkers and runners. "We have laid down a blue rubber flooring throughout the tunnel, similar to an athletic track, explains Einarsen Heggernes. "This makes it more pleasant to use than if one would just walk on asphalt."

The new tunnel came about as a byproduct of Bergen's second Bybanen tram line, which opened in November 2022. The tram line through the mountain required a parallel evacuation tunnel, so the developers decided to make the new tunnel multipurpose.
It doesn't need to set any records but we'd still love to see the Albert Park tunnels reopened as a pedestrian and bike tunnel to improve connections between the city and Parnell.
---
Measuring the benefits of rail projects in Europe…
A really cool look at how various rail projects in Europe stack up over a range of metrics:
---
… while railing about opportunities going to waste in Aotearoa
By way of contrast to the above, this is an excellent and trenchant look at the ongoing costs to Aotearoa of short-sighted planning around intercity rail, with a particular focus on the lower North Island.
Even when public transport solutions are available with high benefits, we tend to double down on big roads which make existing issues worse. This makes it nearly impossible for Aotearoa to achieve a zero-carbon future with genuine, inclusive transport choice.

The first part of the tragedy is growth without transport choice. The second part is that even when good transport choices with high benefits are on the table, the choice is to double-down on roading investment and spend the bare minimum on public transport.
[…]

[For example] the once daily Capital Connection commuter train from Palmerston North to Wellington is on life support and being patched up with refurbished rolling stock from the 1970s to keep it limping along for a few more years. The Wairarapa Line trains are out of capacity and also in urgent need of an upgrade.

The contrast could not be starker along State Highway 1. The gold-plated expressway, 100% funded by central government, at times parallels a single-track rail corridor with a solitary weekday peak-direction commuter train and the three times a week tourist-oriented Northern Explorer service.
---
Good reading and listening
We like the look of this book on (re)wilding the city. Check out a review here.
"If you picture the city of the future, think less of smart tech, flying cars and skyscrapers; more of cascading foliage, green roofs, rough meadows, and dense forest.

The tendency in the 21st century will be for cities to go greener, as a form of self defense if nothing else." pic.twitter.com/v6DrVWCncG

— Melissa & Chris Bruntlett (@modacitylife) April 15, 2023
Need some city-focused podcasts to listen to? Here are 10 suggestions from Bloomberg Cities:
CitiesSpeak with Clarence Anthony
City Climate Corner
Data Points
How to Really Run a City
Innovation Matters
Nudges for Social Good
Our Mayors Breaking it Down
Reimagining Government
The Urbanist
The Data-Smart City Pod
---
Small towns, big impacts
A Streets for People project in Richmond is looking at safe connections threading together parks, schools, and shops in Māpua village.
Moving down the island: South Canterbury's only static speed camera just outside of Temuka is working hard, bringing in a million bucks a year from capturing speed violations. Bravo, little soldier!
Dunedin's main street project has come together nicely, well done to those who carried the vision to fruition.
New Dunedin Main Street breastfeeding + donut eating certified. Cheers @A_G_Hawkins (we gave a certain jeweller the 🖕on your behalf) pic.twitter.com/vNbBmGeQsr

— Liz Allen (@lizallen___) April 8, 2023
And in the far south, Invercargill is also looking good after a bit of a downtown makeover:
Photos of the completed City Streets in Invercargill on Esk Street from ICC's FB and Isthmus' LinkedIn page. Looks great! pic.twitter.com/oSmLo3ienG

— Shaun Baker (@sbaker1428) April 14, 2023
---
Tweets and threads of the week
We love a good before/ after, and the beauty of this one is that it's a same/ same, real-time A/B testing of the kind of spaces people prefer.
Left: Cuba Mall, devastating pedestrianised wasteland.

Right: Lower Cuba St, thriving thanks to plentiful on-street carparks. pic.twitter.com/oZ4NT9UYdX

— Barry the Cable Car (@PonekeForPeople) April 20, 2023
Gorgeous, gorgeous social housing.
This is social housing

15 units, in Mallorca, by TEd'A Arquitectes pic.twitter.com/9bNzpzimuW

— Philip Oldfield (@SustainableTall) April 14, 2023
Proximity trumps mobility: this excellent article by Doug Gordon of The War on Cars podcast looks at how car culture is making us time-poor, and what the answer is. Huddle up! No really, that's kind of the answer.
"If we want to save the time we currently spend in cars, the simplest way to do that is to reduce the distance cars have created in our built environment: Proximity, not horsepower, enables freedom and convenience." Via @BrooklynSpoke in @newrepublic https://t.co/I5OirJGeMV

— The War on Cars (@TheWarOnCars) April 19, 2023
A long but great thread about how many European cities have become so people-friendly: by playing with ideas and seeing what works, basically:
How did European cities get their human-centric streets and public spaces? Why could they escape the car-dependent status quo, while North America seemingly can't?

There's one EASY trick planners and engineers don't want you to know about: Street Experiments. 🧵 1/ pic.twitter.com/CZ7jTRJ6Vp

— Jedwin Mok (@jedwinmok) April 16, 2023
Wellington bike counts are really looking up. Two questions: when will Auckland start sharing this kind of easily-digested data? And when will Auckland continue building the promised network to deliver these results?
https://twitter.com/miriammooretoo/status/1648630786529308674?t=1J3yCXOAk2DccKseV7F6Ww&s=31
The kids are all right, Wellington edition:
It's rare for young people to have a say on @WgtnCC transport plans. This one is powerful. "We want climate action!!" @CycleWgtn pic.twitter.com/L3yjrqSFmb

— Patrick Morgan (@patrickmorgan) April 19, 2023
"Build it and they will come" in action. You did good, Big Apple.
10 years ago today we installed NYC's first Citi Bike station. They said that bikes would bring traffic chaos, danger & lawsuits. What happened instead was history: 178 million trips, 100k rides daily on 28k bikes, turning NYC into one of the world's great cycling cities. pic.twitter.com/X3CKDFbfUG

— Janette Sadik-Khan (@JSadikKhan) April 6, 2023
That's it for this week; have a great weekend. And as always, feel free to share your fave links and stories from the week in the comments. Ka kite.
Share this