What would a typical Auckland suburban street look like if we intensified to meet the housing shortage? Auckland has about 550,000 dwellings, and estimates of the shortage are placed at about 50,000. In other words, we need to increase our housing stock by about 10%. An average street in a suburb like Mt Eden has about one hundred ~800m² sections. So the question is, how do we turn a street like this into a street with 110 dwellings? Or in other words: for a given housing typology, how many extra dwellings do we get per plot, when we replace a single family home?
It's tempting to look overseas, to the world's greatest cities, like London, Tokyo, Paris, Amsterdam, Hong Kong, or New York. But we have neither the populations, cultures, climates, nor the knowledge in our housing institutions that those cities have. Instead, it's more useful to use what we've already achieved with Auckland's Unitary Plan to see what we should do in the future.
Duplexes
A duplex is fairly straightforward: it's essentially two single family houses that share a wall. A great case study here is Maroa Road: Kāinga Ora took two ~700m² sections with single family houses, and replaced them with two duplexes, plus three smaller standalone units, or a total of 7 dwellings where there were previously 2. The pair of duplexes themselves sit on about half the section, so would fit into our typical suburban section with some room to spare.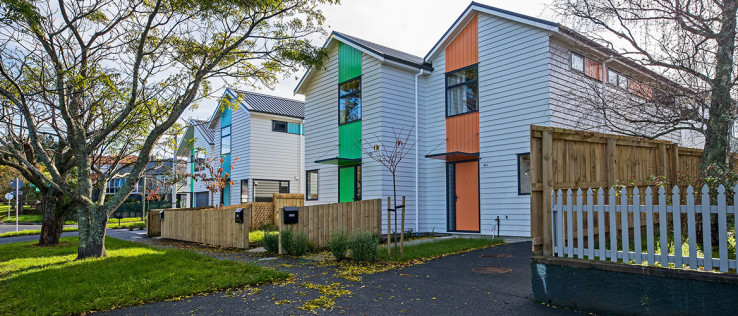 That is to say, if we replace each standalone house with a duplex, we'd need to replace 10 single family houses in our 100 house street to hit 110. And if we replace each standalone house with a pair of duplexes, that's just 5 of our 100 sections in need of redevelopment.
Townhouses
Some of our suburbs have already given up the "kiwi dream" of the great big backyard, and instead have a single family home sitting on smaller sections in the 400m² to 600m² range. In many instances like this, we can go denser than the duplex: the townhouse. The beauty of this is you can more or less go as skinny as you need, just by going higher as you squeeze more in.
Hobsonville Point is Auckland's crown prince of townhouse developments, with just about every possible permutation of fat and thin. These vary from fitting two townhouses to a plot all the way up to the thinnest ones, at just 3.5 metres wide, offering 5 or 6 per plot. So, our already slightly intensified street needs 5 sections converted into our thick, 2 storey townhouses, or just 2 sections for our leanest, 3 storey ones.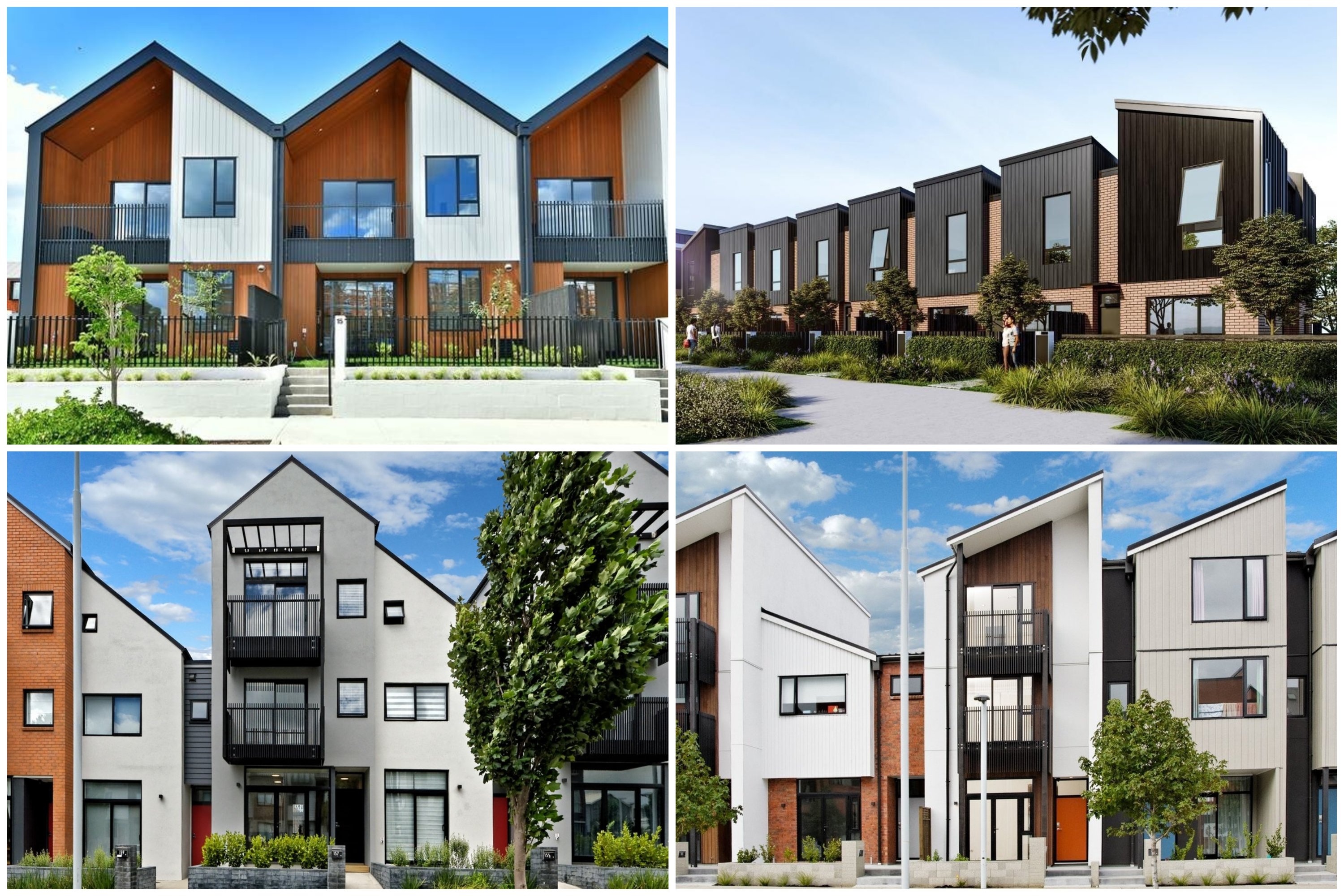 Apartments
Being New Zealand's primary provider of social housing, Kāinga Ora has to figure out how to house as many people as efficiently as possible. Unfortunately, elevators are not cheap, so KO has been leading the way with a utilitarian beauty: the 3-storey walk-up. Cambourne Road fills up a 800m² Papatoetoe lot with 12 units, but is modular enough to fit 6 into a plot of 400m², and is flexible enough to be deeper but thinner when the site dimensions demand it. Just one pair of these will slightly more than meet our average street's needs.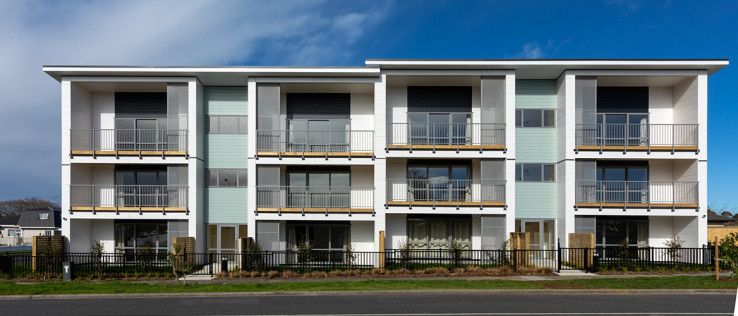 Extending the concept (quite literally) of the 3 storey walk-up is a KiwiBuild development: 340 Onehunga Mall. Due to Onehunga's thicker, squarer grid, it's able to run deeper than many other buildings get the opportunity to. This is fitting 42 apartments (plus car parking, which unfortunately takes up about a third of the site) onto a 3,100m² site previously occupied with just three old villas. Such an increase would not only readily exceed the amount we need for our street, but 3 others, too!
So how could we achieve this degree of intensity without depending on Onehunga's unique grid? Well, the answer is just to build with elevators: if you build twice as high, you can provide the same number of dwellings on half the amount of land. Ockham's recent 5-storey build Modal is perhaps best-in-genre at doing almost exactly this. Despite being on an awkward corner site, this beast is slapping 32 apartments on a single 800m² section in the heart of Mt Albert. You'd only need one of these on every third street like ours' to achieve the density to overcome our housing shortage.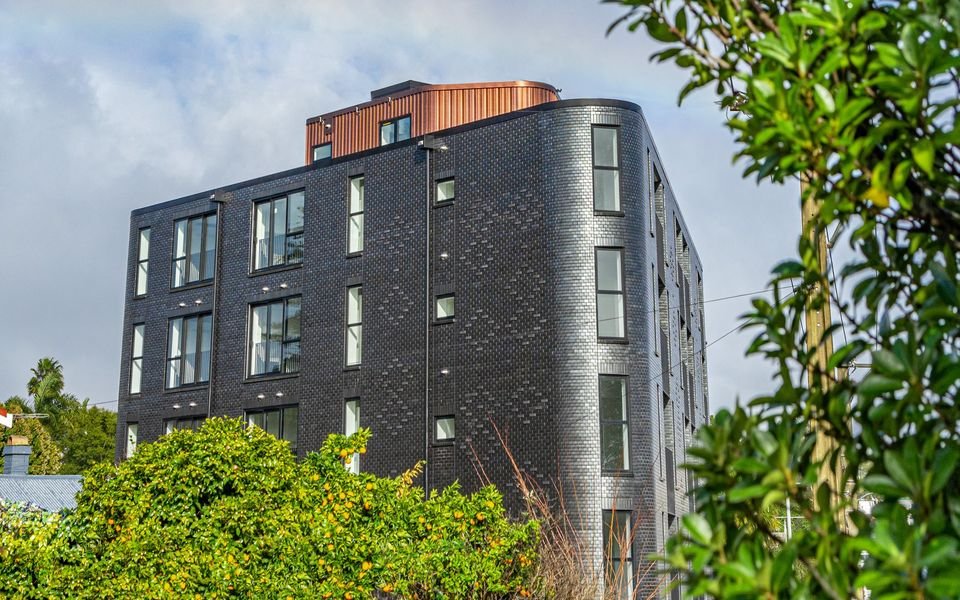 Conclusion
Auckland may be Aotearoa's biggest and fastest growing city, but ultimately it has a population somewhere in between Phoenix's and Perth's. The solutions to the housing crisis look a lot less like Moscow & Pripyat, and more like a quaint, touristy city somewhere in Western Europe. As a bonus: here's what each of Maroa Road, Cambourne Road, Onehunga Mall, and Modal looked like prior to redevelopment, respectively: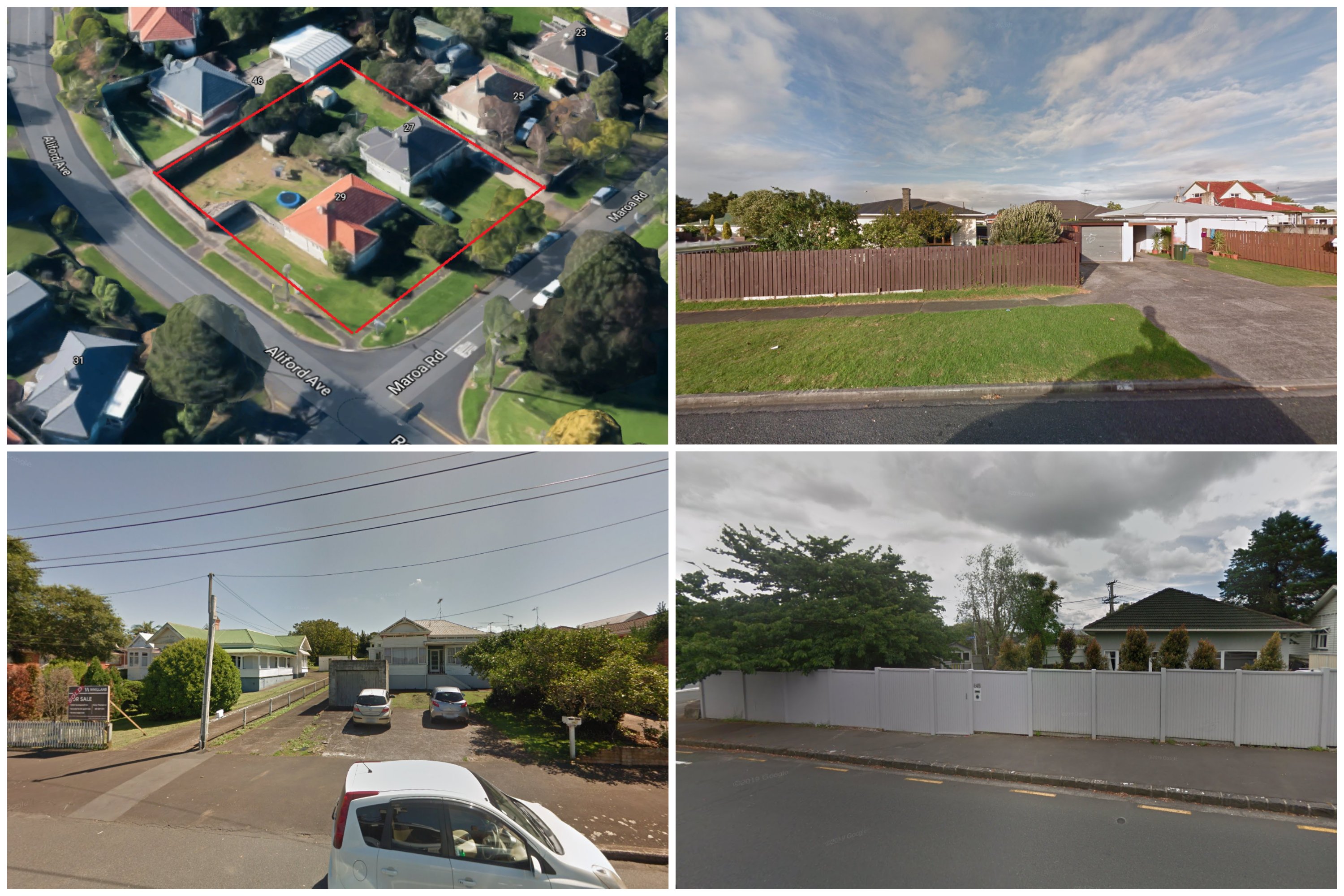 Share this