While Auckland's bus network has radically improved over the past few years, many of the bits that go with it – things like wayfinding, announcements, reliability, shelter and transfer quality – have not changed much or have only had slight enhancements.
One of the things that feels particularly like a relic of a past age is the way AT communicate diversions. A good example of this was the recent New Year's Eve street closures in the central city. If you were planning on taking a bus down to the celebrations, this is what you got:
There are several pages of this, and a list of closed bus stops at the end. I'm not totally sure why the adjusted routes are presented as turn-by-turn descriptions from the point of view of a bus – but I'm guessing that these are instructions given to drivers which have been copy pasted into the website directly, instead of creating something useful for customers. And unfortunately, this is the usual way bus diversions are communicated – it's not just a New Year's Eve thing.
The most obvious alternative would be to present a map of the adjusted routes – perhaps a simplified version of the normal city centre route map – so you could see at a glance where the buses will go without having to mentally parse a huge table and turn it into a map in your head.
An added benefit of this is that it would show all the routes at once, so you could see alternate ways to get anywhere, with transfers, instead of just having to take "your bus". At a deeper level, AT's reluctance to present this sort of information as a map perhaps indicates that they're still struggling with the concept that the new network is in fact a network, and not just a disjointed collection of routes into the city centre that people use for commuting.
AT did eventually publish a map of the street closures. But while it was useful for seeing where you could hang out, or motorists to see where they wouldn't be able to drive, it still required you to cross reference the wall of text to work out how your bus might be affected. Provided you were lucky enough to be able to read the stop numbers through the tiny font.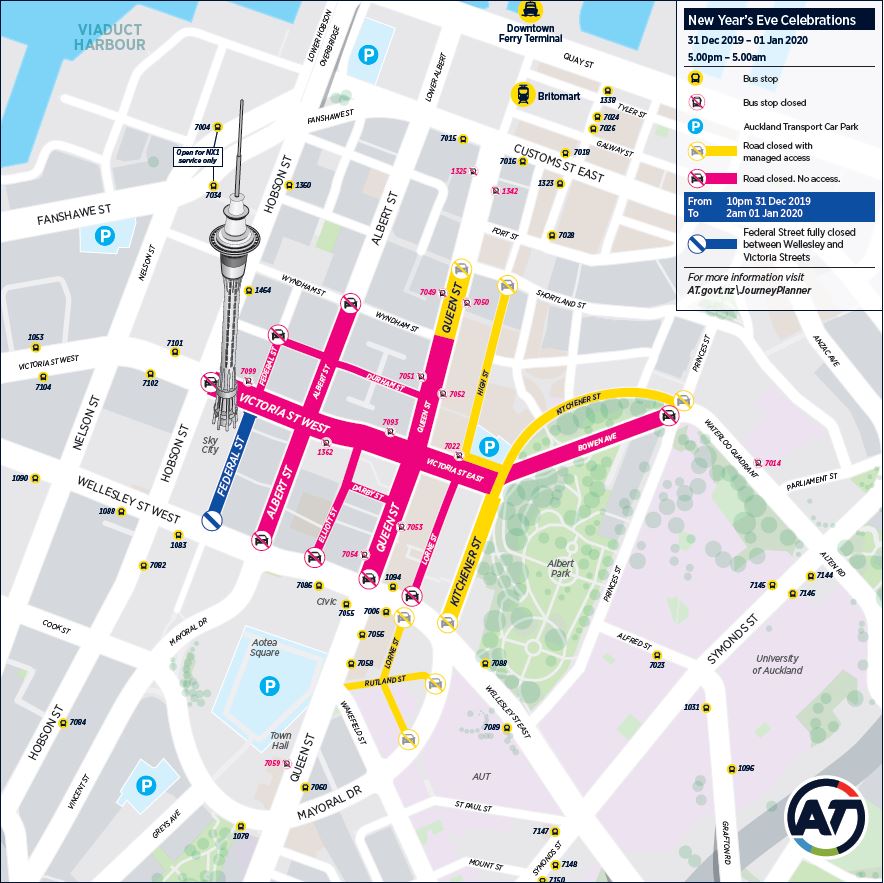 It's unlikely that anyone at AT actually thinks that presenting information in a way that might be most appropriate for a 1960s robot is actually good for customers – it's probably because it's the way it's always been done, and it's easy. But if we can get it right for motorists, going a bit further to draw some lines on a map for bus users as well doesn't seem like it would be that hard.
Share this