This is a guest post from Waitemata Local Board Chair Pippa Coom. She attended the annual TRAFINZ conference last week. TRAFINZ represents local authority views on road safety and traffic management in New Zealand. 
Change is coming to NZ – we just have to be brave
World renowned road safety strategist Dr Matts- Åke Belin has found himself in New Zealand at the worst of times and the best of times for sharing the proven success of "Vision Zero" (the approach to road safety summarised as no loss of life on the roads is acceptable). Dr Belin has been invited to NZ to attend Trafinz and to share how Sweden's Vision Zero approach has halved the road toll since 1997 to achieve the one of the lowest number of fatalities per capita in the world.
New Zealand's road toll rate (7.7 fatalities per 100,000) is almost triple Sweden's and getting worse. It has increased 37% since 2013 (the highest since 2010) after a 40% reduction between 2007- 2013.  372 people have died on New Zealand roads in the last year at an estimated cost of $12m per day (we're just 3 fatalities away from the total road toll for 2016).  Seven years into the "Safe System" approach to road safety something has been going very wrong.   Meanwhile we are also counting the wider social, environmental and health costs of our transport system.
But as Dr Belin discovered as the keynote speaker at Trafinz there is a strong sense a seismic shift is about to happen to transport policy under the new government.   The stars are lining up for the implementation of Vision Zero NZ far sooner than road safety campaigners could ever have imagined until really recently.
I went to Trafinz to learn from Dr Belin (and the many other excellent presenters-  #trafinz on twitter for updates from the conference) and to find out if transport officials and the road safety sector are ready to embrace a radical change to their thinking and approach.  It is hard not to be sceptical after years of traffic efficiency trumping safety despite a rising road toll but I was very encouraged by what I heard at Trafinz, in particular from NZTA's representatives.
Lisa Rossiter, Senior Manager Strategic Interventions at NZTA was the first to address head on the opportunity that is coming together.  She had no time for anyone wanting, as she put it, "unhelpful conversations". She didn't want to hear that the road toll is "too hard" or that "technology is going to solve everything" or that "we don't need median barriers." She only wanted "helpful conversations" because when it comes to controlling energy (vehicles) and protecting people "we know what has to be done".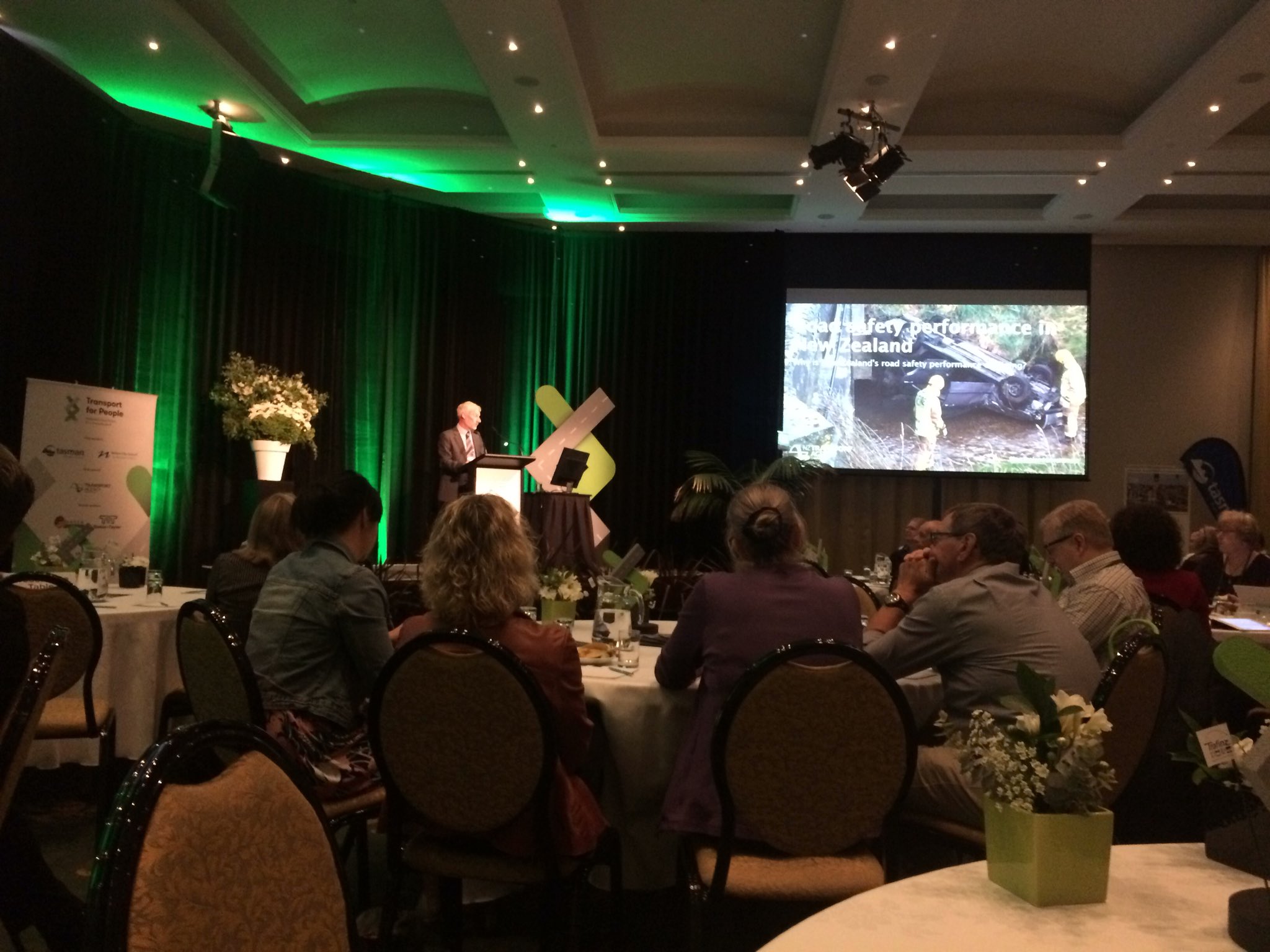 Lisa introduced Dr Paul Graham NZTA's Principal Scientist from her team.  He looked at a range of complex reasons why NZ's road safety performance is declining (clue: crash data on overseas drivers, older drivers and motorcycles cannot explain the increase but the 100k increase in the heavy vehicle fleet 2013-17, 70% of used vehicles on the road being over 10 years old and rising open road speeds are stronger factors).  He confirmed that the core philosophy of safe system should be that on NZ roads "you are not killed if someone stuffs up".  He recognised that it is often hard to get cut through with road safety messages so he suggested we just promote the simple concept to the public: "nobody dies"
Fresh in his role as NZTA's Safety and Environment Director Harry Wilson offered the most promising "teaser" of what we can expect under the leadership of Minister of Transport Phil Twyford and Associate Minister Julie Anne Genter.   He told us that based on early signs, the new government "wants to make a difference" and that Minister Twyford has asked for "safety and vision zero" to be part of a new transport action plan. Mr Wilson saw it as a "reset of aspirations of what the government is aiming to do" after progress under the previous administration had "stalled" on road safety and infrastructure investment.   He said that the Ministry of Transport had "done us proud" with the briefing to the incoming Minister.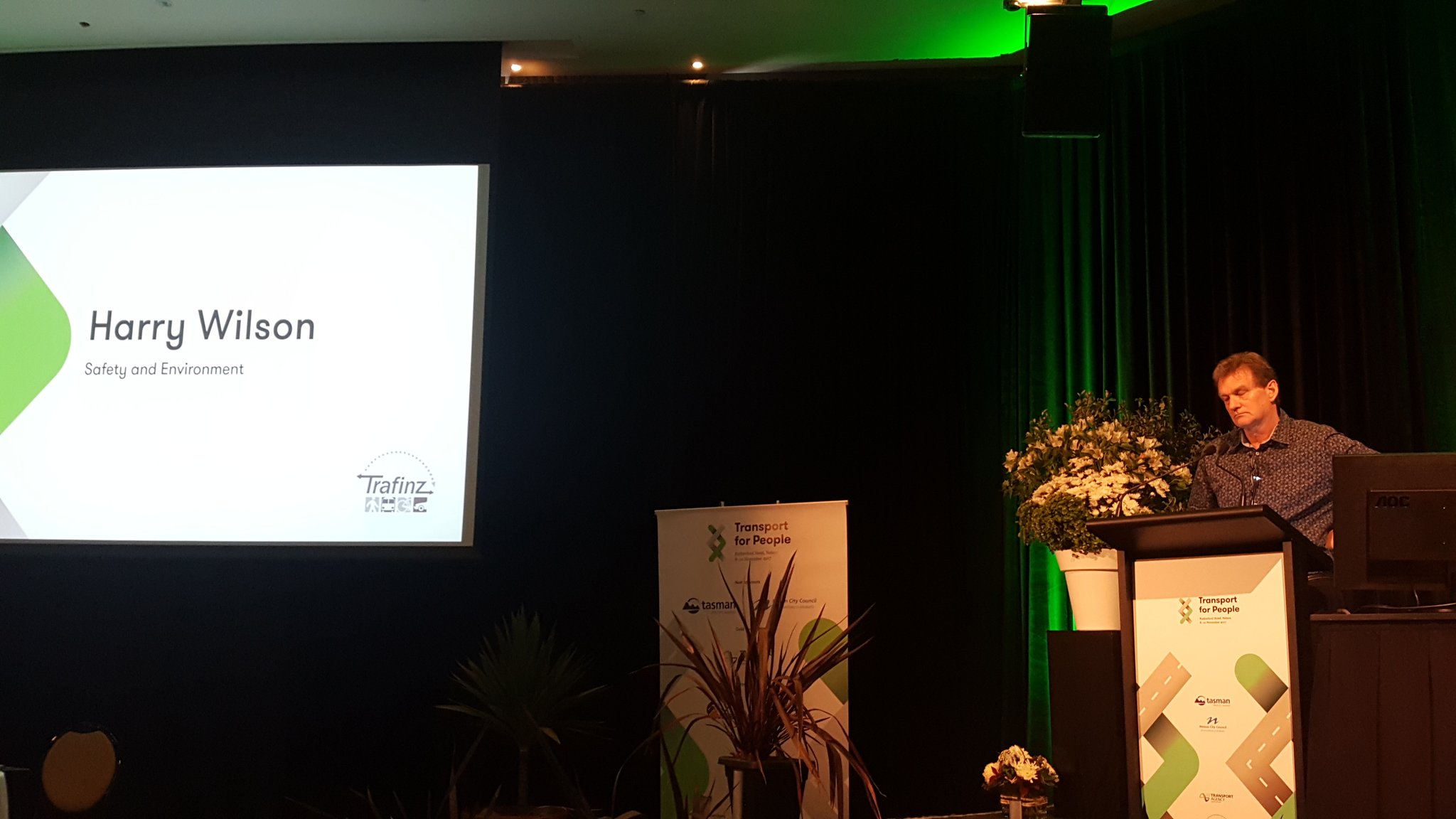 As with his other NZTA colleagues Mr Wilson appeared ready to embrace a new approach. As he said "we've got to stop trading off safety for time savings," "our death toll is completely unacceptable, we need to create a sense of outrage and urgency in the public".
No doubt there will be organizational push back and many tensions (NZTA " great journeys to keep New Zealand moving"  promise to "customers" is clearly out of step in failing to address both "place" and "movement", and Agency presentations were strikingly weak on references to climate change). But from my Trafinz takeaways I am hopeful that the next Safer Journeys Action Plan will adopt the "ethical imperative" of Vision Zero to prioritise the safety of people so we can look forward to a future of accessible, inclusive, safe, sustainable, healthy transport that also works to meet our climate change commitments.
As Dr Belin urged in his concluding comments at Trafnz in taking this opportunity, we just have to "work with change and be brave."   Trafinz President Andy Foster summed up in closing the conference with the sobering fact that if NZ had a road toll similar to Sweden 275 more people would be alive each year.
[Note: All quotes and stats are taken from notes recorded at the conference so there may be errors]
Pippa Coom, is Chair of the Waitematā Local Board, Auckland Council and Transport portfolio lead.  She has recently been appointed to the Executive Committee of Trafinz.
Waitematā Local Board has adopted Vision Zero as an outcome in its Local Board Plan 2017 and is advocating for a zero serious injuries and fatalities target to be included in the Auckland Plan refresh.
Note, you can watch yesterday's Auckland Conversations discussion here.
Share this