It seems Len Brown is trying to rebuild his image in part by being a man of action and getting things done. Now that in itself isn't necessarily a bad thing, especially if focused in the right direction and while Len is pushing some things well, like the City Rail Link, in other areas I think he seems almost desperate to do something that he could end up doing more harm than good. His "Transforming Auckland's Economy: State of Auckland" speech this morning had a number of interesting points, some I thought were good, others not so. Bob Dey has the full speech here.
Thirdly, we need to build a reputation as a modern, wired city. In this regard, there have been too many excuses & delays in rolling out ultra-fast broadband and providing decent wi-fi.

Auckland Council will be developing a Digital Auckland – kick start programme so we are playing an active role in picking up the pace in this area. My intention is that this will include working with business partners to roll out free wi-fi in public places & public transport and finding commercial partners to help expedite the rollout of ultrafast broadband.
I see connectivity is increasingly important and rolling out wi-fi to more areas, especially in public areas and on PT is a good idea. Already increased communication is being seen as a critical element in some of the changes we are seeing with transport as young people who want to spend more time online can do that on a bus/train much easier than they can behind the wheel and was cleverly picked up for this AT ad.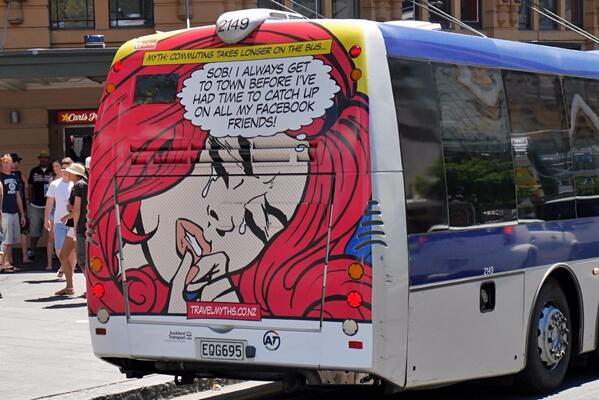 Moving on
Fourthly, we need to begin to make public-private partnerships part of how we deliver largescale projects. At the end of last year the council & I agreed a way forward for the SkyPath project – a walk & cycleway across Auckland's harbour bridge.

The SkyPath will be Auckland's first PPP, and will eventually enable a great vision – a cycle & walking path stretching from St Heliers to Devonport. This will act as a real game changer for building pedestrian & cycleways around our city. This is a chance to cut our teeth on PPPs and show that we can deliver real value for money and better outcomes for ratepayers.

PPPs are not a free ticket to be clipped by the private sector. We need to use our considerable scale & position to nail down the best possible deals for Aucklanders, learning the lessons from international experience and retaining public ownership.

Beyond the SkyPath, there will be major opportunities for transport projects, including the city rail link, better waste management & other major transport projects.
This is where I have the biggest concern with Lens push. Many of the projects he's talking about like Skypath and the City Rail Link are critical but the reality is most of the funding shortfall is going to require additional funding sources is being created other large roading projects. Just because you could build them as a PPP doesn't suddenly make them a better project. That's one of the reasons behind why we are so focused on the Congestion Free Network. Before we consider how we fund projects it's important that we go through a process and actually work out what we need to build i.e. what will work. After we have done that we can start looking at how to fund stuff and PPPs might be part of that. In fact of all of the projects on the list perhaps the one most likely to succeed as a PPP would be the CRL as it does allow private business to work in with the construction through activities like additional retail.
In all of this it is pleasing to see Len becoming increasingly positive about Skypath, something he had been a bit quite on for a while.
Share this