During the unitary plan debate last year I felt there was a lot of unjustified scaremongering about the height and bulk of buildings that the plan allowed for. Even if the Unitary Plan is passed I suspect we will still hear howls of protest from some people who over estimate just how much impact proposed developments greater than a single storey might make. One way to help solve this could be a planning policy from Switzerland known as a Bauprofile (construction profile). This is described by The Guardian.
Clusters of spindly antennae poke up from rooftops and strange boxy frames project from walls. In the distance, a line of balloons hangs improbably in the air, describing a perfect square. This surreal panorama of rods and wires, which form the ghostly apparition of an alternative skyline, is a common sight in any Swiss city, where planning policy requires the erection of the profile of a building before it is granted permission to be built.
and
Constructed from metal rods or wooden poles, fixed in place by wire guy ropes, the Swiss baugespanne or bauprofile are usually erected for a month, outlining the full height of the proposed development, with protruding markers to indicate the angle of the roof and direction of the walls. For taller buildings, tethered balloons can be used, and helicopters have even been employed to hover at a specified height for the tallest towers. Underground structures are not let off the hook either, usually having to be marked with wooden stakes at their corners.
Here's some examples of what they look like.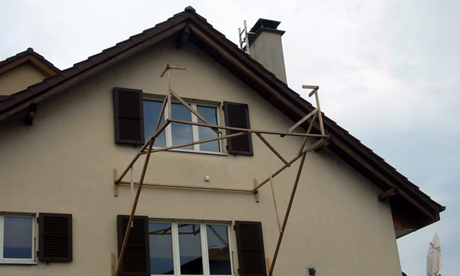 This one is one I found from the blog Urbanizit
The idea is about to be trialled in the UK however I wonder if it is something we should be thinking about too. I don't necessarily think it should be something required for all construction – although it doesn't seem overly onerous – but perhaps it could be a useful tool for especially contentious developments to help locals understand what is proposed. I suspect for many projects it would show proposed developments are not something to fear and may help get buy-in from locals on the project or at least less opposition.
What do you think; could it help address issues with those campaigning for no change in our suburbs?
Share this