We left Gijon and drove our rental westward on the A8 highway. Our destination? Santiago de Compostela. Our route? Illustrated below (source).
Asturias is a beautiful part of Spain that mixes coastline and mountains to create a potent visual cocktail. Numerous impressive viaducts on the A8 highway provides splendid views on all sides, while a couple of tunnels smooth out the topographical ebb and flow. It really was a lovely driving experience. Partly because there was lots of road and not much traffic. Plus some fairly spectacular wind turbines (source).
After an hour or so of highway driving, we exited the highway at Ribadeo. This seaside little town sits on the border between the regions of Asturias, from hither we came, and Galicia, to thither we head. Ribadeo is definitely worth a stop; the town itself is cute and it sits in among some of the beaches in Spain. Perhaps the most famous is le Catadrales (source).
There are two important things to know with le Catadrales. The first is that its popularity means that you have to book; the second is that it can only be accessed at low tide. So we instead opted for Playa de os Castros (source).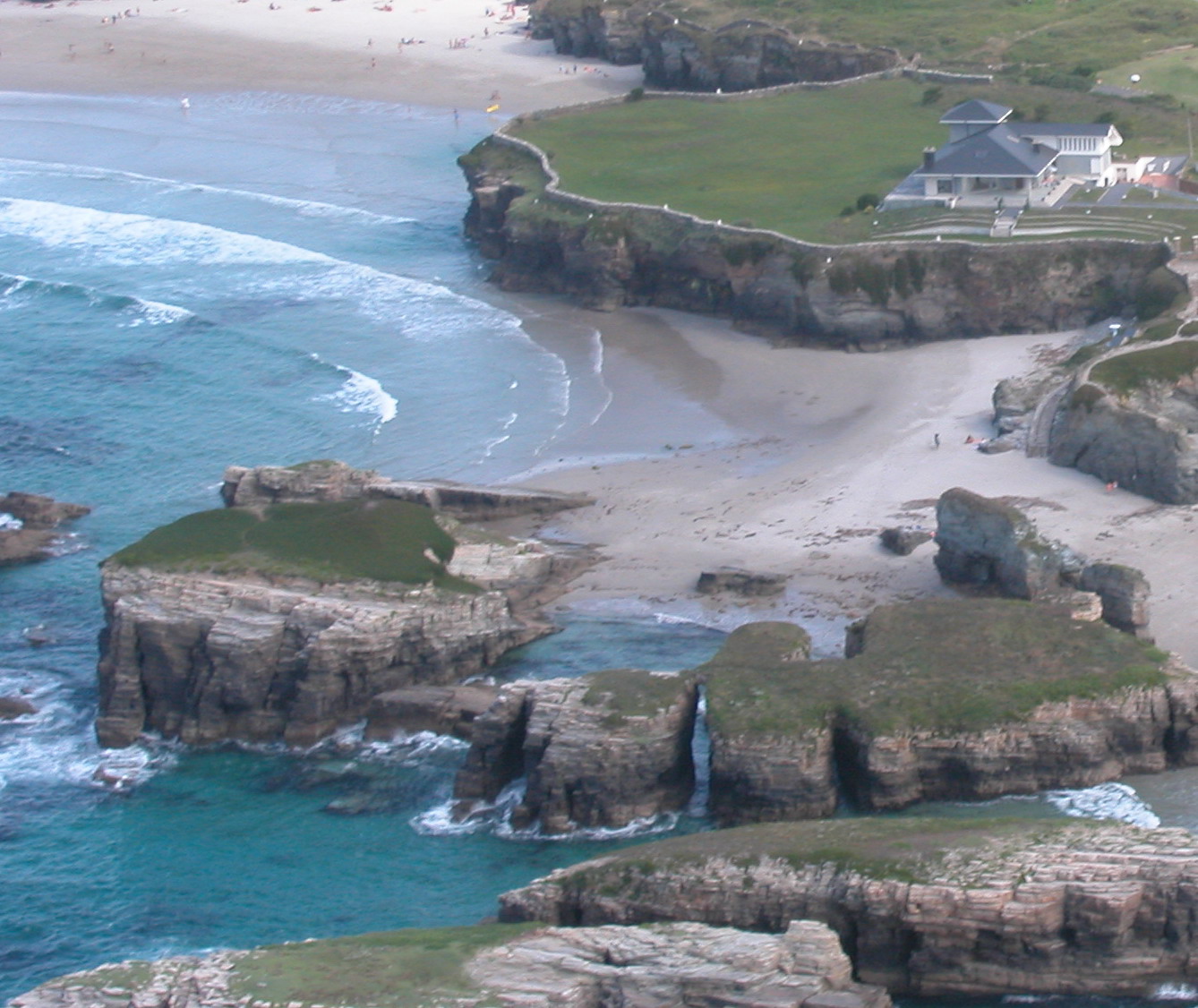 This lovely little sliver of the Galician coast almost had it all: Jagged cliffs encapsulated the crescent shaped bay. Fine white sand and smooth rocks greet your feet. Take to the waves for a swim in the beautiful clear water, or sit back and relax in any number of calm rock pools. On the day we were there the temperature nudged 30 degrees and clear blue skies, so the refreshing currents of the Atlantic provided welcome respite.
Beyond Ribadeo, the A8 turns inland and heads south towards Santiago de Compostela, which is the capital of the Spanish region of Galicia. This is the most remote, less-visited, and (in my experience) most unique regions of Spain. The city purports to be the final resting place of Saint James, and by extension it marks the end point of "St James way" (Camino de Santiago). This is one of the more famous pilgrim routes (source).
If you're not the sort of person who is motivated to walk thousands of kilometres in the name of God, then don't write Santiago de Compostela off too quickly. The city has a lovely feel. This is partly due to its pleasant architecture, which is a UNESCO world heritage site for fairly obvious reasons …  (source).

The first thing I noticed, is that while Santiago de Compostela is a major tourist destination, the people we encountered were not your "typical" flashy Euro tourist. Instead, they were more the type of people who enjoy ascetic pleasures, such as walking thousands of miles. And then having done so, sitting around and enjoying a good yarn over a hearty (but not too expensive) meal. My kind of people.
The second thing I noticed about Santiago de Compostela was the large number of young people. SdC is home to a major university, which was founded in 1495 and now has 30,000 students (source). During my travels, I've come to realise that universities, and the young people they attract, contribute quite a lot to a city's atmosphere. And it's not because I like young people. It's more because the types of activities they pursue tend to have positive spillovers for me. Specifically, students tend to like eating and drinking, but don't like spending too much money. This means that cities and towns that are home to major universities also tend to support good, affordable food.
Of course, university towns also tend to have a lot of "creative energy". On our last night in Santiago de Compostela, for example, we stumbled across an all-girl band of 5 who were belting out glorious original rock songs in front of an aged religious building in the middle of a lightning storm, which lit up the sky behind them. There was a very decent crowd for a Thursday night all having a whale of a time.
The other reason we stayed in Santiago de Compostela is simply its proximity to the rest of Galicia. And our second to last day, we picked up a rental car (40 Euro for one day; delightful little Volvo V40) and drove 268 kms for approximately 5 hours. In which time we took in the following towns and sights.
One of our destinations stood out. Let me introduce you to Castro de Barona. This is a little headland juts out in the Atlantic that just happens to be the site of well-preserved Celtic ruins dating to 100 BC. Now, as some you may know I love history. Indeed, before turning my hand to engineering and eventually economics, I studied history.
Of all the historical monuments and sites I have visited in my life, the ruins at Castro de Barona rank at the very top in terms of enjoyment. Few places give you such a palpable sense of history, especially from the perspective of every day people who are trying to build a better life for themselves. Let me try and paint you a picture, first visually … (source and source).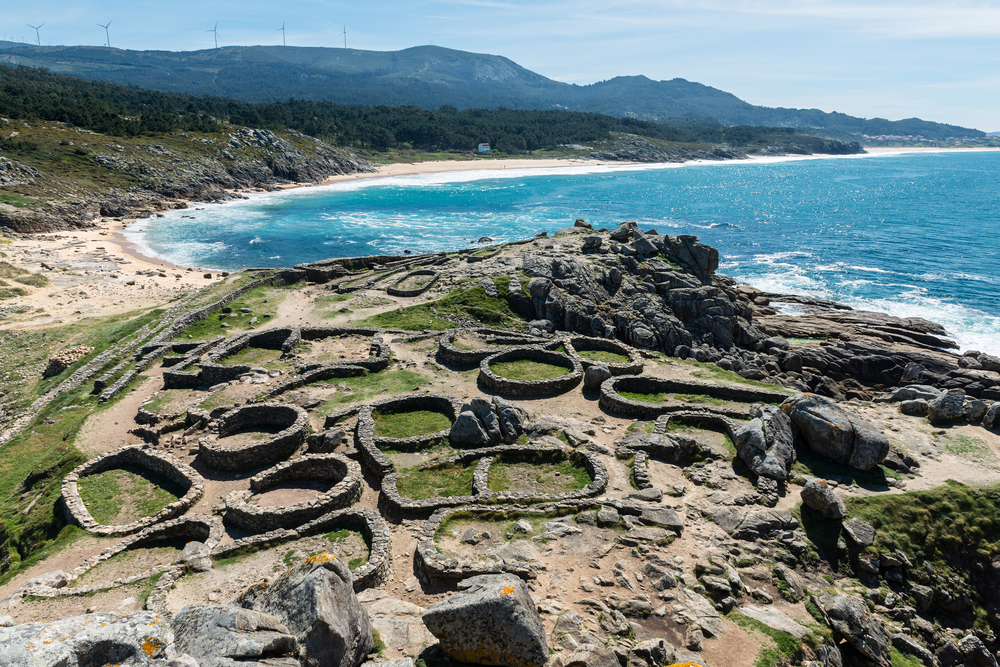 As we wandered through the ruins, sunlight streamed through the clouds, illuminating the ocean around us, beneath which verdant forests of sea weed waved green fingers. Waves crashed, gulls flew, and flowers bloomed. Being there, in this environment, it was not at all hard to imagine why, thousands of years ago, those people chose this location to build a town. All in all, Castro de Barona was perhaps the highlight of our trip so far. It is a truly magical place.
On our final night, we enjoyed a meal at one of Santiago de Compostela's many restaurants, namely Cafe de Altamira. Let me mention two things about this restaurant. The first is that it showed up as "vegetarian" on Trip Advisor. Imagine our surprise when none (I mean zero) of the entrees or meals listed in the menu were vegetarian. Apparently, in Spain, "vegetarian" means "contains products derived from vegetables". Being omnivorous, we were not bothered.
So I opted for the (locally sourced) octopus. Which brings to the second notable thing about this restaurant; The god dam octopus. This was possibly the most delicious meal I have ever tasted: Fresh lightly grilled octopus muddled together with potatoes, creamy paprika sauce, and fresh parsley. Simple, succulent, and oh so tasty. Expensive, as far as this part of Spain goes, but worth every over-valued Euro cent as far as I am concerned.
Conclusion? We spent three fabulous days in and around Santiago de Compostela, and did not even come close to running out of things to do and/or places to visit.
Recommendation? Travel to Galicia, stay in Santiago de Compostela, swim at the beach, visit Celtic ruins, and eat octopus.
Further research? Lisbon. Until next post, bon voyage.
Share this